Nissan Skyline – Evolution of an Icon
Nissan has been a powerful automotive company for many years now. One of their most iconic cars is the Skyline.
The Origin
The Skyline name originated from Prince automobile company, which developed and sold the Skyline line of sedans before merging with Nissan–Datsun.
The original Skyline was launched by the Prince Motor Company in April 1957 and was powered by a 1.5-litre engine. The later iteration launched in 1964 called the Prince Skyline GT was powered by a 2.0-litre G7 inline-6 engine shared with the upmarket Prince Gloria sedan.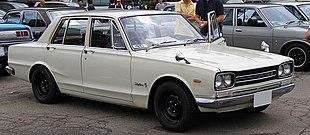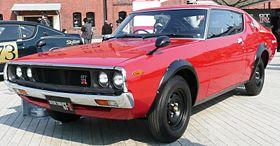 Evolution
The first Nissan Skyline rolled off the line in 1966. These original skylines were 4 door sedans or 5 door station wagons.
The first Skyline GTR appeared in 1969 where it was unveiled at the Tokyo Motor Show. It boasted an inline 6 engine and generated 160 horsepower, impressive for its day.
The Skyline GT-R became the flagship of Nissan performance, showcasing many advanced technologies including the ATTESA E-TS All-wheel drive system and the Super-HICAS four-wheel steering. Today, the car is popular for import drag racing, circuit track, time attack and events hosted by tuning magazines. Production of the Skyline GT-R ended in August 2002. The car was replaced by the GT-R (R35), an all-new vehicle based on a enhanced platform of the Skyline V36 platform. Although visibly different, the two vehicles share similar design features and are manufactured in the same factory.
The "Nickname" – Godzilla
Then followed the Skyline R30, R31 and the R32 (Godzilla*) in 1989. The R32 was the first GT-R branded Skyline since 1973. It ran the RB26DETT engine which would feature in the R33 (1995) and R34 (1998 – 2002).  The technology and performance of the R32 GT-R prompted the Australian motoring publication Wheels to nickname the GT-R "Godzilla" in its July 1989 edition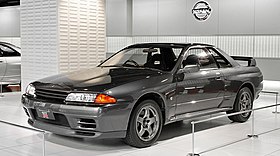 The Legacy
Undeniably the Nissan Skyline is iconic – it has appeared in TV shows, cartoons, and movies.
Part of its popularity comes from its pop culture reference, but the Skyline is seen as a "JDM Hero" due to the ability to tune and modify them. JDM means Japanese Domestic Market – tuning and modifying is a very popular hobby in Japan! 
The Skyline is seenaas a perfect base to modify from with its RB26DETT engine and turbos.
It should be noted that Nissan has released an R35 model (2009 – present) but it doesn't bear the Skyline name.
The Show
On the 24th of September 2022, there will be several Skylines gracing Nairn Links as part of the Wheels of Nairn car show. We have a few clubs who will be exhibiting with us and currently have several Skylines registered for the show.
If you'd like to see these iconic machines come along to Nairn Links from 10am to 3pm on the 24th of September 2022. Entry to the public is free.