In this Wheels of Nairn spotlight, we are looking at vehicle manufacturer – Triumph.
2022 marks the 120th anniversary of Triumph Motorcycles in the UK, but the story began a little further back.
The History
In 1883 Siegfried Bettmann emigrated from the German Empire to Coventry in England. In 1884, he founded his own company called the S. Bettmann & Co. Import Export Agency, in London. Their original products were bicycles which the company bought and sold under their own name.
In 1886 the company was renamed the Triumph Cycle Company and a year later became New Triumph Co. Ltd with funding from Dunlop Pneumatic Tyre Company and new business partner, Moritz Schulte.
In 1902 the Coventry factory produced its first motorcycle – a bicycle fitted with a Belgian Minerva engine. By 1903 they had sold 500 bikes, but that was just the start.
The first world war proved a boost for the company as they switched to producing vehicles for the allied war effort. Among the vehicles produced was the "Trusty Triumph"- the famous Model H Roadster, of which 57,000 were produced. Unfortunately, trouble began with a disagreement and Bettmann and Schulte went their separate ways.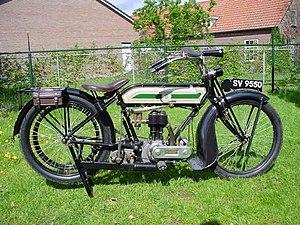 Post war/Pre War troubles
The great depression was not a successful time, and Bettmann retired in 1933. In 1936 the company was bought by Jack Sangster who formed the Triumph Engineering Co Ltd. They produced the 500 cc 5T Triumph Speed Twin in 1937 and then the 500 cc Tiger T100. After the destruction of the Coventry factory during the Blitz, machinery and tooling was salvaged and production moved to Meriden, Warwickshire in 1942.
From then came the 498 cc TR5 Trophy Twin and the 650cc Thunderbird (pictured)
Moving on
After a rough time in the 70's changing hands to Norton Villiers Triumph (1972) and then to The Meriden Motorcycle Co-operative (1977) further evolutions of the Bonneville were released along with TR7T Tiger Trail and budget 650 cc Triumph TR65 Thunderbird. In 1983, when Triumph went into receivership it was bought by John Bloor who then renamed it Triumph Motorcycles (Hinckley) Ltd (briefly Bonneville Coventry Ltd). Triumph Motorcycles (Hinkley) Ltd is the largest surviving British Motorcycle Manufacturer.
"Starting with Jack Marshall's first Isle of Man TT win in 1908, to AMA domination in the sixties, right up to today's Moto2TM world championship record-breaking partnership, Triumph has raced – and won – in almost every field of motorcycle competition in history." – (Triumph Motorcycles Website)
The list of Triumph's bikes spans over 100 years.
There will be several Triumph models appearing on Nairn Links at the Wheels of Nairn show on 24th September from 10am to 3pm. Entry to the public is free. There will be vehicles, stalls, and refreshments.