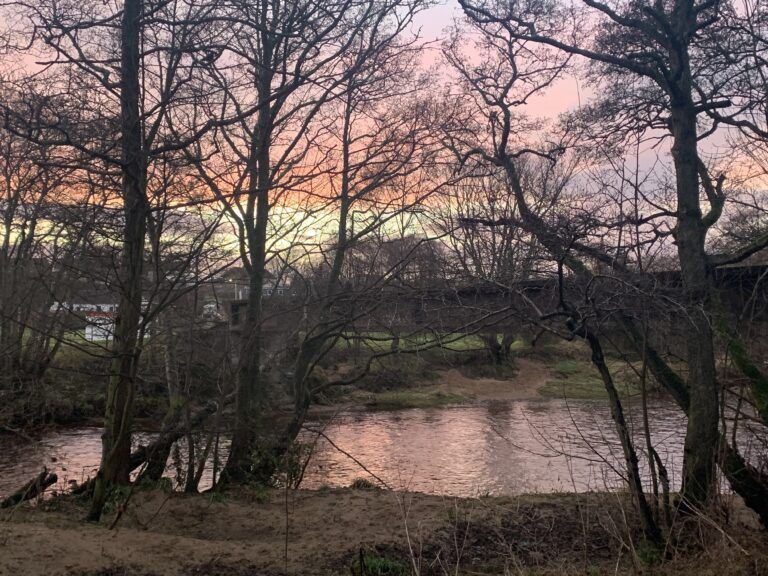 River Nairn Circuit – 5km/3 miles – 1 to 1.5 hrs – Rating: Easy
It is recommended to start this walk from the Harbour Car Park in Nairn but the walk can be picked up from any point along the High Street and walked clockwise or anti clockwise. The trail is marked in the map on the right with purple dotted line.
Points to note: Crossing the A96 between the harbour and High Street. 
This is a main road and it is recommended to cross at the lights for safety and convenience.
Walk: Starting at the car park, follow the surfaced walk along the riverside upstream towards the town. Depending on which side of the river you are walking along you will come to a crossing on the A96 to continue along the High Street and then go along Church Street which will take you back down to the river where you can cross Jubilee Bridge to head back to the harbour again or keep walking upstream to the next bridge to cross and walk back down the other side of the river.
Flora and fauna: This walk takes you from beautiful seaside scenery where you can see seabirds, seals and occasionally dolphins. Into lush deciduous forest, full of seasonal flowers, song birds and the occasional squirrel. When walking along our bustling High Street you may see further birds including crows, sparrows, *swifts and *swallows *in the summer.
In the summer months the town also has beautiful flower arrangements along the length of the High Street and across the town, including hanging baskets, roadside flower beds, raised pots and more.
Further details of this walk can be found on Walk Highlands

While on your route there are many businesses you will pass. Our High Street is a bustling hub of shops, cafes, restaurants, take aways and accommodation. 
In Fishertown, towards the Harbour you will see the Scottish Exotic Rescue, Al Raj, Friar Tuck's and the Sundancer. Once at the harbour you will also see the Lochloy Caravan Park.
Full sized maps can be found here. Paper copies of these maps can be found in most accommodation across the town, cafes and restaurants and from the Community Centre reception.