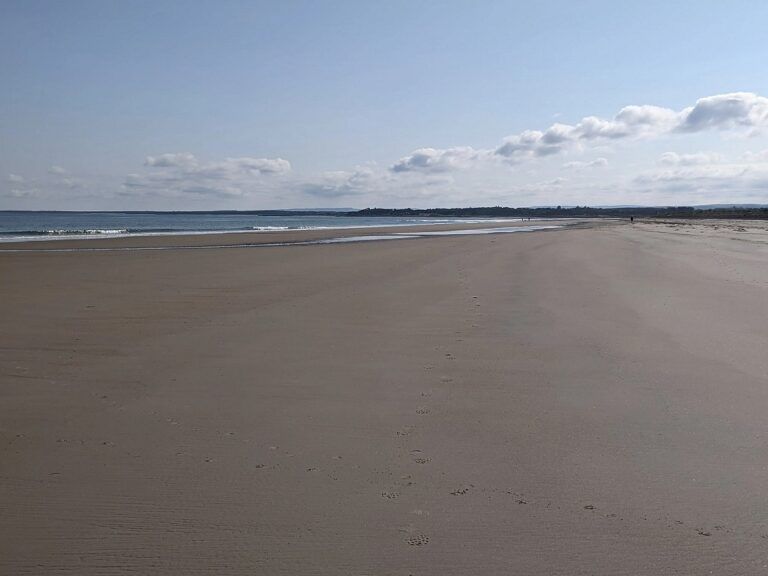 Whiteness Point from Nairn– 16.5km/10.25 miles – 3.5 to 4 hours – Rating: Easy – Please note can only be done at low tide.
It is recommended to start this walk from the central beach carpark beside the Leisure Centre.
Points to note: This walk can only be completed during low tide. Please be aware of the tide as you walk to avoid getting caught.
Walk: Starting at the car park, follow the signs to the left for "Promenade walk". This walk can be entirely done on the sand during low tide, however there are also inland routes. A green signpost indicates the "Delnies Circular path" turns inland along Seabank Road. It is recommended to continue to walk along the front past the golf club house. The route does cross a couple of greens so be aware of golfers and be courteous to them.
The inland route goes along Altonburn Road and towards Easter Delnies Farm before heading through gorse and grassland to head back to the beach.
Flora and fauna: This walk takes you along a stunning sandy beach where you can see seals and dolphins. The grasslands along the inland route take you through marram grass and gorse (which has stunning yellow flowers in the summer months). Many birds can be seen on the inland route including Stonechats, Linnets and Yellowhammers.
Further details of this walk can be found on Walk Highland.

Full sized maps can be found here. Paper copies of these maps can be found in most accommodation across the town, cafes and restaurants and from the Community Centre reception.