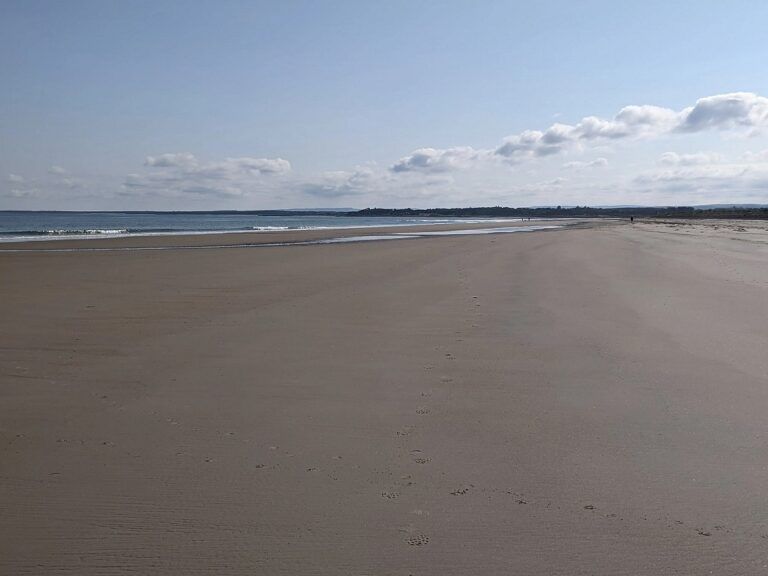 Whiteness Beach – The Secret Beach
The beach is a beautiful, long, sandy stretch to the west of the Nairn Golf Club.  It is a long stretch of white sands which is normally quite and peaceful.
It is nicknamed the "Secret Beach" due to it being sheltered and not as easily accessible as the other beaches around Nairn.
Access to the point and bothy is only during low tide. Care must be taken not to get caught out by the tides.

Location: 
The Beach starts west of Nairn Golf Club and extends further westward. 
Visitors can reach the beach by parking at Hilton of Delnies and walking down the farm track to the beach or by walking along from West Beach, both are indicated on the map to the left.
Top Five things to do at Whiteness Beach:
Sunbathing
Dog walking
Running
Enjoying the quiet surroundings
Investigating the fishing bothy
Flora and Fauna:
The beach comes down from the dunes through a pebble bank before flattening out into the expanse of white sands seen in photographs. Marram grasses grow on the dunes.
Birds such as turnstones and sanderlings can be seen along the beach with seagulls and oystercatchers. Dolphins and minky whales can sometimes be seen further out in the Moray Firth when the tide is high.
Facilities: 
Dogs Permitted
Maps can also be found here. Printed maps are available from most accommodation across Nairn as well as the reception in the Community Centre.
There's lots of welcoming accommodation in Nairn. Why not stay for a few days to allow yourself time to full explore what we have to offer?