What is Orienteering?
Orienteering is an outdoor sport for all ranges and abilities. It involves navigating, using a compass, between control points on the orienteering map. Each control point usually has a paper punch or method of marking you've reached the control point. These must be done in order and are checked once the person/team returns to base.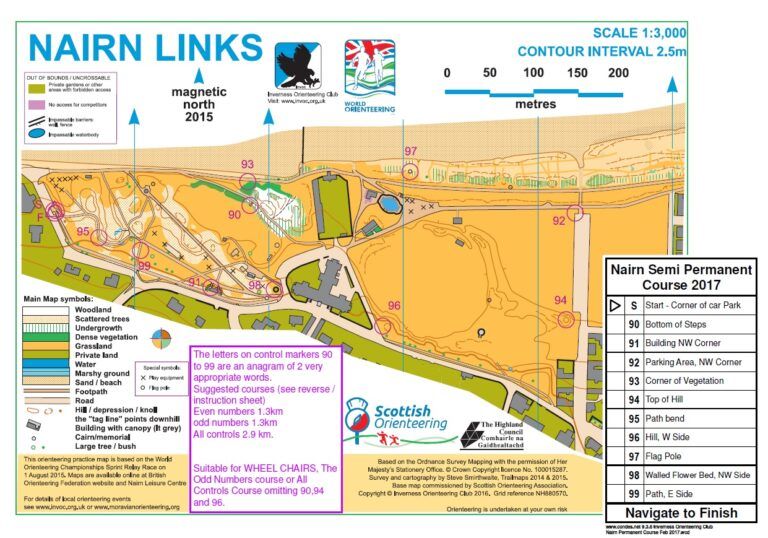 Where does it take place?
Orienteering exercises both body and mind. It can be done competitively by attempting to do the course in the quickest time choosing your own route.
Orienteering can take place in woodland, on beaches, in urban settings and more. It doesn't require any investment in equipment, all you need is what you would usually take with you for a walk or run.
Orienteering groups organise events for groups of various ages and levels to take part in, each with its own challenges.
There are 2 orienteering courses in Nairn. Nairn Links and Nairn East Beach. These can be found on the Scottish Orienteering site listed below.
What's happening in 2023?
This year the Scottish Orienteering organisation has a 6-day festival in Moray from 30 July to 6 August.
The 6 Days of Scottish Orienteering will see people orienteering from Lossie Forest to Darnaway, Roseisle and Culbin. There are also rest day activities to be enjoyed and mountain bike orienteering.
They describe it as:
"Get ready to join us for an unforgettable five-day event at Moray 2023!
With a total of five (forest) runs, the best four will count towards the individual age-class competitions, giving everyone a chance to shine.
Competitors from around the globe will have the opportunity to experience the breath-taking beauty of Scotland while competing on high quality terrain and courses. Don't miss your chance to be part of this amazing event and showcase your skills in one of the most stunning locations in the world!"
World Orienteering Week takes place from 11 – 17 May 2023.
The closest orienteering club to Nairn is the Inverness Orienteering Club.