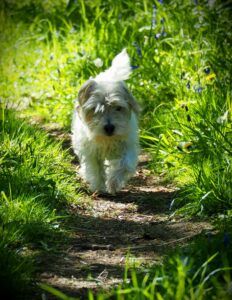 Nairn to Cawdor by the river– 9km/5.5 miles – 2 hours – Rating: Easy
It is recommended to start this walk from the town centre at the Courthouse with the clocktower. You can walk this route from Cawdor to Nairn if you happen to be visiting Cawdor and want to take a scenic route back to Nairn.
Walk: This walk takes a similar riverside route to part of the Nairn River Circuit. There is a signposted trail and paths along the route. 
From the town centre, walk down along church street towards the river. There is a narrow concrete footbridge called Firhall Bridge, cross this to reach the other side of the river. Follow the path with sign posts towards Cawdor and the bend of the river. The river will widen and you will see slower bends that are popular with fishermen. The path then leaves the river slightly, running atop an old, grassy, flood embankment which will lead through a gate where the path will head back towards the river. After a short while the river will meet with the Cawdor burn. Beyond here is a signed turn to the left which will take you out in Cawdor.
Flora and fauna: There are many plants and birds to be seen along this route. Sparrows, robins, many species of tit can be seen most of the year in the trees. Swans, ducks and Herron frequent the river. The trees along this walk are mainly deciduous, such as beech, silver birch and oak. Towards Cawdor their are more evergreens such as pine.
Flowers include snowdrops, blue bells and crocuses in the spring, and broom, gorse and thistles in the summer months.
Animals that can be seen include: red squirrels, and at dusk occasionally badgers and foxes.
Further details of this walk can be found on Walk Highland.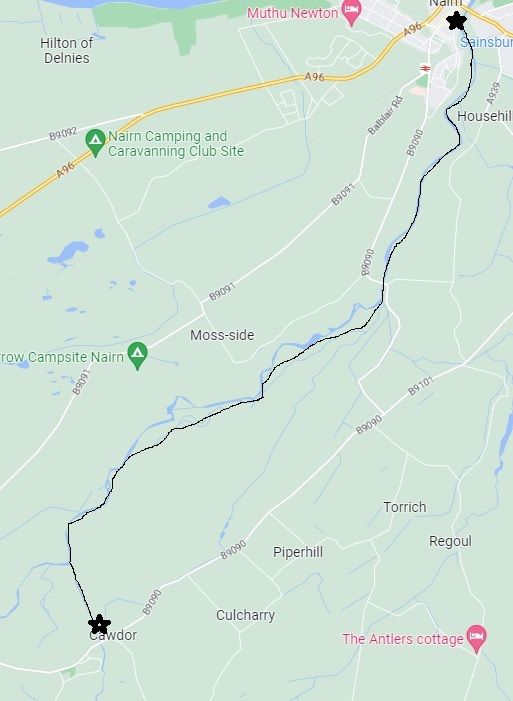 While observing the beauty of our surrounding countryside, please remember to make sure you are well stocked up on water and any other necessities. We have a number of shops that can provide anything you that require for your excursion. 
Why not stay for longer at some of our wonderful accommodation and enjoy more of what Nairn has to offer?
Full sized maps can be found here. Paper copies of these maps can be found in most accommodation across the town, cafes and restaurants and from the Community Centre reception.